Fisheye Elmarit-R 2.8 / 16
This is a record of using the Eisheye-Elmarit 16mm f/2.8 fisheye lens for Leica R with a digital camera.
Table of contents
Gallery
Sample photos by HASSELBALD X2D and LEICA SL Typ601(mirrorless digital camera)
Impression
The hood seems to be an added bonus, but I think the backlight resistance is sufficient as it does not produce so much dubious ghosting even with the sun in the picture.
The lens is a fisheye lens, so there is a strong element of fun, but it is interesting to take advantage of the 0.3m minimum focus distance for close-up photography.
As you can see in the gallery, I use this lens to capture architecture and cherry blossoms in full bloom at the same time in urban areas.
As for the lens price, Russian-made fisheye lenses start at around $200, which is undeniably expensive even if you include the cost of the brand.
This one is a modified lens with ROM. When Leica released the R8/R9, they modified the conventional cam lenses with ROM. Fisheye lenses with ROM are quite rare, and are not easily found on eBay.
The advantage of a lens with ROM is that not only the R8/R9 recognizes the lens information, but also when attached to a Leica SL/SL2/SL-S mirrorless digital camera using the genuine R-L mount adapter, the lens name, aperture value, etc. can be recognized. Since the information is recorded in the exif file of the results, it is easier to organize the results of shooting compared to using lenses before the R-cam.
Use on X2D
When used with X2D (FUJIFILM GFX, X1D, X1D2, 907X) with a sensor size of 44mm*33mm, the image below is similar to a circumferential fisheye in the horizontal direction, but the image circle is insufficient in some corners and the image is completely black, and vignetting from the lens hood is visible at the top and bottom However, the image circle is not enough in the corners and some black areas can be seen. Still, it can be used for a wider area than the 35mm full-size sensor. When cropped to a square, an image size of 32mm x 32mm can be used.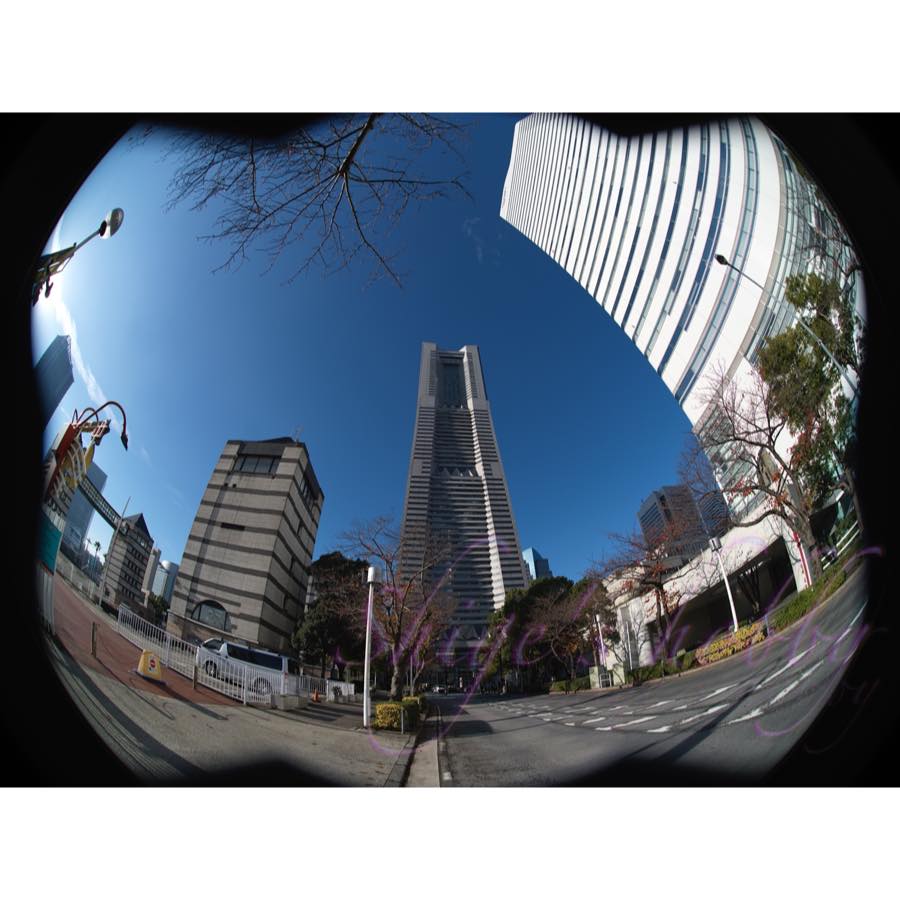 Specification
Fisheye-elmarit 16mm is a fisheye lens for Leica R. It is manufactured by Minolta of Japan and is said to have the same optical system as Minolta's MC Fisheye Rokkor 16mm/f2.8.
Item
Value
note
focal length(mm)
16
Maximum aperture
2.8
Minimum aperture
16
Lens configuration
11elements 8groups
Minimum distance(m)
0.3
Lens length(mm)
60
Lens max diameter(mm)
71
Filter diameter(mm)
–
Filters cannot be attached because the hood is integrated into the front of the lens.
Three color filters for film cameras are built in.
Weight(g)
470
Reference links
Affiliate links