Review of using the aus Jena Sonnar 2.8/180 with a hasselblad digital camera.
Table of contents
Gallery
Photo example (with HASSELBLAD X2D)
Impression
The East German lenses usually come in three mounts, M42, Pentacon-six, and Exakta, but the one we obtained had been converted to Hassel V mount.
I bought this one because I have a Hasselblad XV lens adapter for the XCD, and I thought the V-mount has many different types of mount adapters, so I thought it would be easier to use.
The XV Lens Adapter is simply a connection device and has no electronic contacts. There is no difference in functionality between newer and older V-mount lenses.
Also, even in the case of a lens with a lens shutter, it cannot be used.
Since the lens covers the 6×6 version, it is larger and heavier than 35mm version lenses with the same specifications, such as the Elmarit 180mm/F2.8 lens. As a person who usually uses H lenses, I feel that it is about as heavy as it can be.
The helicoid of the lens I own is smooth and I can fully enjoy the real pleasure of manual focusing. The helicoid has a rotation angle of 120 degrees, so it is not suitable for quick movement from infinity to minimum.
The focusing ring is wide enough to be operable, but the diameter of the aperture ring located behind it is larger than that of the focusing ring, so it can be a little obtrusive. I would prefer a thicker focus ring.
The image circle covers the 44×33 sensor range with plenty of room to spare, and the image resolution is very good all the way to the corners, making the use of the 35mm version a bit of a waste. Fujifilm's GFX, which is equipped with a mechanical shutter, is definitely easier to use.
The 180mm lens is a 144mm equivalent, which gives a reasonable sense of spaciousness to take in the surroundings.
This lens has been in production for a long time, and you should always be able to find some balls in the market.
Many of our predecessors in Japan and abroad have left behind many documents, and there are many elements to enjoy, such as the differences between individual lenses and the changes in barrel design.
Used lenses are a once in a lifetime occurrence, so if you find one that interests you, it is a good idea to give it a try.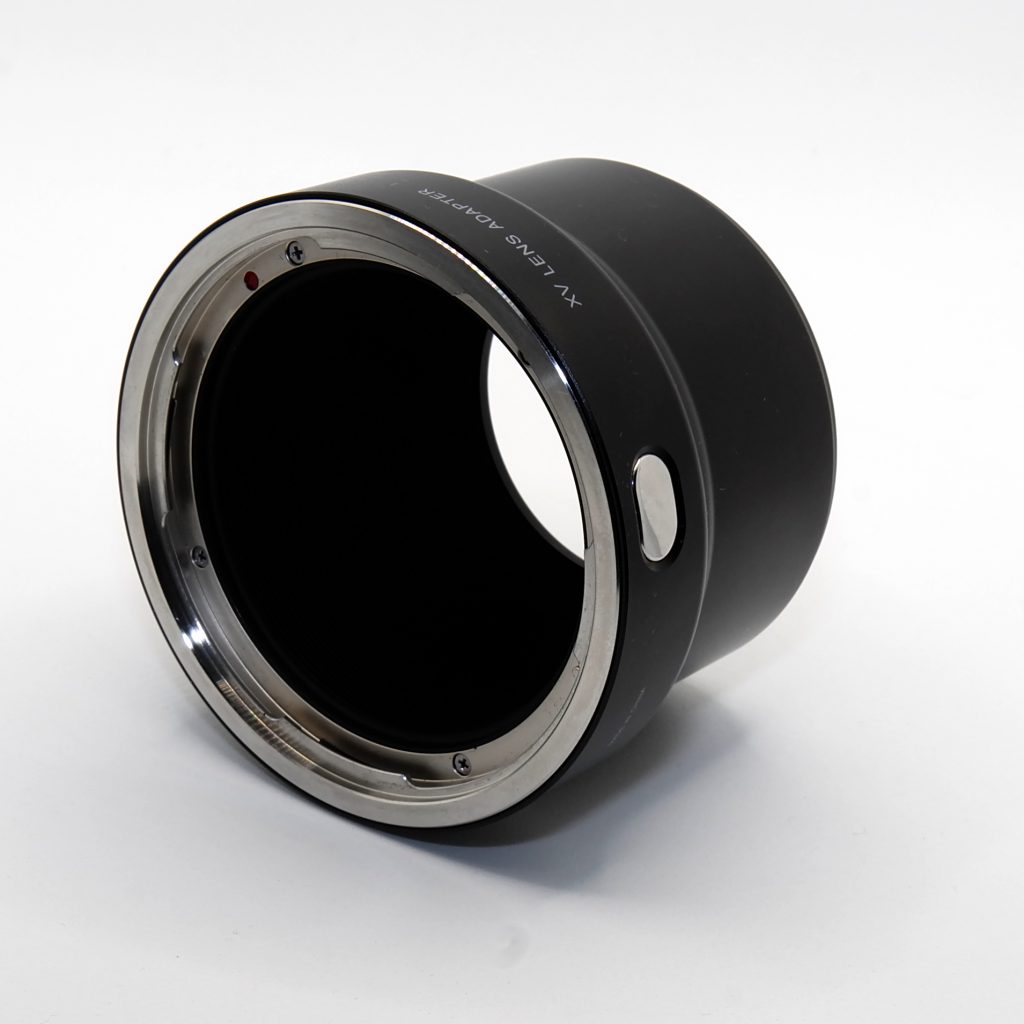 Specification
Large aperture East German lens with a focal length of 180mm, usually mounted in M42, Pentacon-six, or Exakta.
There is a small tripod mount at the base of the lens.
The aperture has a fixed half stop and is almost equally spaced from f/2.8 to f/32.
There is a rotation angle of about 120 degrees from infinity to the shortest distance of 1.7m.
| | | |
| --- | --- | --- |
| Item | Value | note |
| focal length(mm) | 180 | |
| Maximum aperture | 2.8 | |
| Minimum aperture | 32 | |
| Lens configuration | 3groups 5elements | |
| Minimum distance(m) | 1.7 | |
| Lens length(mm) | 109 | |
| Lens max diameter(mm) | 100 | Excludes protrusions |
| Filter diameter(mm) | 86 | |
| Weight(kg) | 1.6 | XCD-V mount adapter, hood and hood cap included |
Reference links